Highlight:
The heroine is the newcomer Kayadu
There are also many actors in the film
Director Humble The shooting of the upcoming film 'Nineteenth Century' has been completed recently. Actor Siju Wilson will play the lead role of Arattupuzha Velayudha Panicker in the film. Now, director Vinayan has come out with a response to a critic who mocked Siju Wilson and commented below a post on his Facebook page.

Also Read: Kamal Haasan Kovid; Remya Krishnan arrives to present Bigg Boss

'Everything is fine. But the hero of the movie, no matter how hard you try, nothing will come out of that face. ' This was a comment criticizing Siju. Vinayan replied to the comment, "I will change my mind after watching this movie. I am sure you will become a fan of Siju." Fans have also taken to the stage to take his clear answer.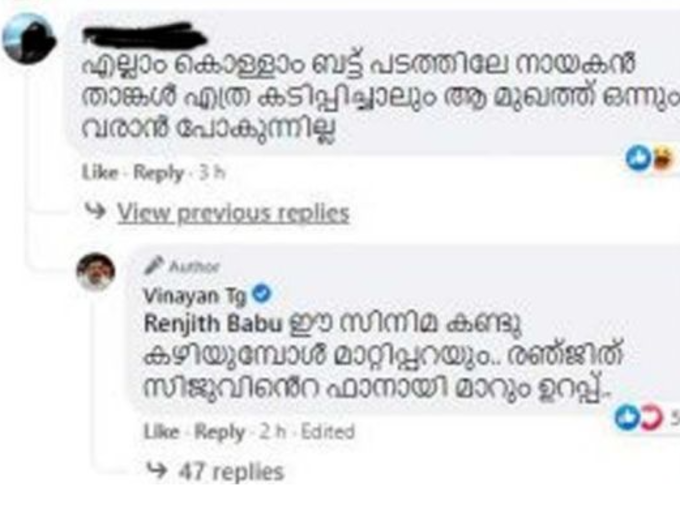 Also Read: Can be seen with family without a cut or mute; 'U' certificate for 'Iso' in controversy

Renaissance hero Arattupuzha became a weapon builder Nineteenth century Vinayan has earlier said that the actor will be promoted to superstar status with Siju's performance in the film. Siju did a gorgeous makeover for the film. In addition, Siju practiced gallery, horse racing, and other martial arts. Apart from Siju, there are many other actors in the film.
Anoop Menon, Chemban Vinod, Sudhir Karamana, Suresh Kishna, Tini Tom, Vishnu Vinay, Indrans, Raghavan, Alansier, Mustafa, Sudev Nair, Jafar Idukki, Chalipala, Sharan, Manikandan Achari, Senthil Krishna, Dr. Shinu, Vishnu Govind, The film stars Sunil Sugatha, Jayan Cherthala, Baiju Ezhupunna and Sundara Pandyan.
Shaji Kumar is the cinematographer. M Jayachandran composes the music with lyrics by Rafeeq Ahmed. Executive Producer VC Praveen, Baiju Gopalan, Kishnamoorthy, Project Designer Badusha, Art Direction Ajayan Chalissery and Editing Vivek Harshan.
Also Watch video:
The 'nineteenth century' arrives to tell the stories of history