Highlight:
After ten years of love and four years of marriage, Samantha and Naga Chaitanya separated
Actress Kangana Ranaut has accused a Bollywood superstar of being involved in the split
Kangana says divorce is often caused by a man's mistakes
Samantha Ruth Prabha and Akineni Naga Chaitanya were married after seven years of love. But after four years of marriage, the couple divorced. Fans are heartbroken by Chai Sam's separation. Bollywood actress Kangana Ranaut's reaction to the issue has been raised as to what happened between the two.

Divorce is often caused by the 'brand' of the male Kangana Ranaut Said. The actress made her comments on Instagram. Indirectly, Kangana Ranaut blames a Bollywood actor for the divorce.
"Divorce is often caused by a man's mistakes. It may be in the voice of the conservative or it may be more judicial. But this is how God created male and female. Stop sympathizing with women who change their clothes, and who later claim to be their friends. "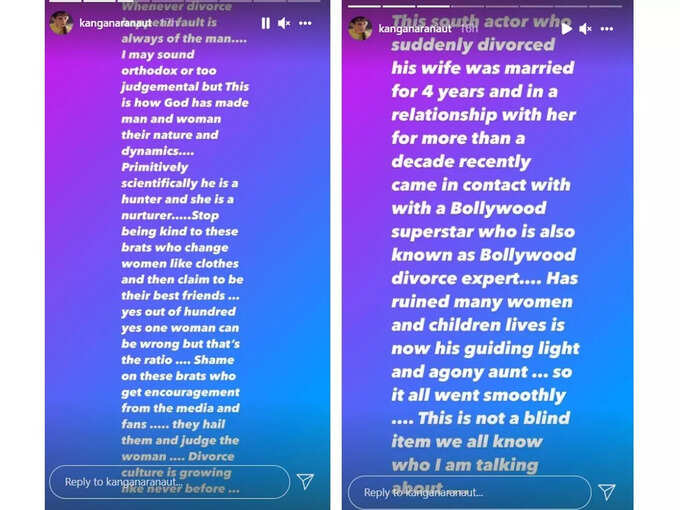 One hundred percent of women may be at fault. However it is a shame to see the encouragement this category gets from the media and fans. They admire the male and judge the female. Kangana Ranaut said that the culture of divorce is growing like never before.
An actor in the South Industry has divorced his wife, who he has been in love with for a decade, for four years after he befriended a superstar who specializes in Bollywood divorce. He is the guide of the South star who has ruined the lives of many women and children. So for him everything is going smoothly. "Everyone knows who I'm talking about," Kangana Ranaut's Instagram story ends.