Highlight:
Singing of actresses goes viral.
Re-enactment of Tamil song.
Nithya Menon and Remya Nambeesan in the song.
Margazhi Monday, a music video of South Indian heroines, is gaining a foothold in cyberspace. Favorite actresses of Malayalees and Tamil Nadu Suhasini Maniratnam, Shobhana, Revathi, Kaniha, Anu Haasan, Nithya Menon and Remya Nambeesan are part of the music video. 'Margazhi MondayActress in the remake of the Tamil song ' Brightness Has arrived with dance steps.
Also Read:81 for Gandharva music; Greetings music world
The remake of the song is directed by Suhasini Mani Ratnam. The album was released last Thursday. The song is sung by Uma Iyer, Revathi, Nithya Menon, Remya Nambeesan, Anu Haasan, Kaniha, Jayasree and Suhasini Mani Ratnam. Every year the initiatives of the actresses attract the attention of the cyberspace. As such, the photoshoot pictures taken last year had garnered attention.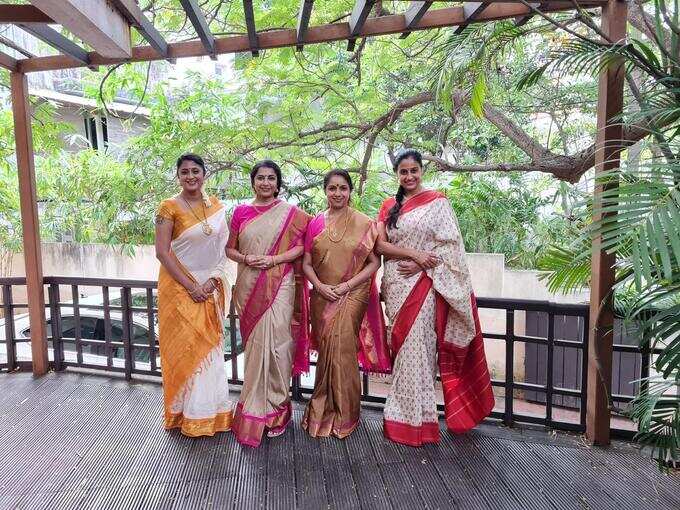 Also Read: Gopika and Kirtana say that people come to them asking if they are not the children of Lalettan!
Actress Suhasini was also at the helm of the photoshoot that redesigned Raja Ravi Varma's paintings. The photoshoot was attended by the favorite actresses of the South Indian audience. Shobhana, Lizzy, Nadiya Moidhu, Samantha Akineni, Shruti Haasan, Remya Krishnan, Khushboo, Lakshmi Manchu and Aishwarya Rajesh appeared in the photos taken by photographer G Venkat Ram.