Famous Through 'Those Days' Cinema Chaitanya (KM Chaitanya). Now they are ready to bring their next movie to the screen. This time they are coming up with a comedy story titled 'Abbabba Movie'. The heroine makes an entry for the boys hostel. The upcoming adaptations will be a comedy 'Abbabba'. The trailer of the movie is currently being released on July 1. The film has recently released a song from the film, sharing some information about 'Abbabba'.

This is an entertainment film
'I have a 17-year-old daughter. Corona learned the highlight of her life, SSLC, at home without going to school. Then she missed college days. Many students, including my daughter, complained about two years of school and college life. All this haunted me. The story was appropriate for the time, and we started the movie. This is an entertainment film. Let me start my career with a laugh after Corona ends, 'says KM. Spirit.

Likhit Shetty & Amrita Iyengar reunite for 'Family Pack'
Likith Shetty, Amrutha Iyengar, Dhanraj Achar, Ajay Raj, Tandav, Sarath Lohitashwa and Avinash are in the mainstream of 'Sankasthaka Ganapathi' and 'Family Pack'. This is the story of the 100 year old Boys Hostel. Filmed in Bangalore and Tumkur. The trailer has been released and has received plenty of praise.

Family Pack: Shivamogga boy Arjun directed family pack
Music by Deepak Alexander, Title Song sung by ALL OK has been released. There are three songs in the movie 'Abbabba'. One of them was written by Dali Dhananjaya and sung by Vasishtha Lion. Yogaraj Bhatt and Kaviraj have written the rest of the songs. The film was produced by Ann Augustine and Vivek Thomas in Kannada.

Arjun Kumar, director of 'Family Pack', is receiving an offer from Telugu
Actor Likit Shetty, who claims to be his character, said: 'I am K.M. Chaitanya agreed to act as soon as she told the story. Because I wanted to act under Chaitanya's direction. One cannot forget the time spent filming with all the artists who acted in the film. It is a complete entertainer.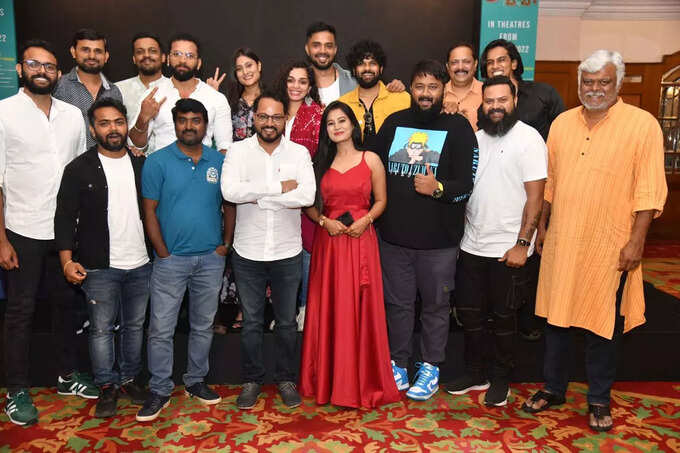 I've never been in a hostel!
'Producers are basically a different language. Yet he thanked them for making the first film in Kannada. I've never stayed in a hostel. But I was sent to a boys' hostel by the cinema director KM Chaitanya. Amrita Iyengar is the story of how I got out of that hostel because of the inevitability.
Actor Sarath Lohitashwa is playing hostel warden father. The film, compiled by Haridas KGF, is being released across the state on July 1 by KRG Studios.
Amrita Iyengar – Irtiya and Amma Baitare
Get the latest news updates on Kannada movies