Actor Prabhas's family is now saddened. The reason is that Prabhas' beloved grand uncle, veteran actor Krishnam Raju, has passed away recently. Prabhas and Krishnam Raju had a very good camaraderie. Prabhas was also very fond of Doddappa. When Prabhas is in such a situation, there is a gossip on social media about him. It's also about dating!

Prabhas dating Bollywood actress
Actor Prabhas and Bollywood actress Kriti Sanon are rumored to be dating. By the way, both of them acted together in the movie 'Adipurush'. There is love between the two who were very close on the sets. All the news are spreading that they can tell about their love at any moment. Prabhas is in pain due to the separation of his favorite actor Prabhas Doddappa. In such a situation, Prabhas fans are upset for spreading such rumours.

Prabhas was supposed to act in the remake of 'Bedara Kannappa'; In the end, Krishnam Raju's wish was not fulfilled
Is Koffee with Karan the reason for this rumour?
Kriti Sanon was recently on the 'Koffee With Karan' show hosted by director/producer Karan Johar. One of the tasks required someone to call a celebrity friend. Then Kriti called Prabhas. This issue is said to be the reason for all this gossip. It is not true that the fans are bored with this idea. Their close sources said that Kriti and Prabhas will surely laugh if they read this dating news.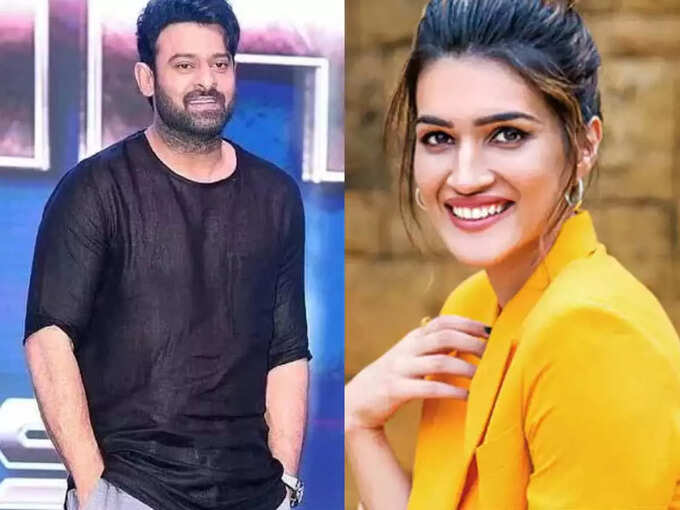 Krishnam Raju: Prabhas Doddappa, veteran actor Krishnam Raju is no more
Krishnam Raju passed away on September 11
Veteran actor, Prabhas' great uncle, former Union Minister Krishnam Raju passed away on September 11. Krishnam Raju was admitted to the hospital due to age-related ailments. But the treatment was ineffective and he breathed his last. Being the son of Krishnam Raju's brother Uppalapatti Surya Narayan Raju, Prabhas was very fond of Doddappa. After Prabhas' father Surya Narayan Raju passed away, Prabhas was mentored by Krishnam Raju. Krishnam Raju used to take many important decisions in Prabhas' career.

Veteran Tollywood actor Krishnam Raju has been admitted to hospital
Prabhas family is currently preparing for Krishnam Raju's 11th day functions. The whole family is ready to go to Krishnam Raju's hometown for that.
Prashanth Neel: Will there be 'Ugram' story in Prabhas' 'Salar' movie?; Prashant Neel has put a lid on the rumours
Get the more news updates on Kannada movies