Actor Devaraj's second son Pranam Devaraj had earlier made his entry into Sandalwood through the movie 'Kumari 21F'. He played a very soft character in that movie. Now he is all set to shine in a solid action avatar. He played the hero in the film 'Viram' which revolved around an angry young man. The teaser of this movie has been released recently.

Pranam's parents Devaraj and Chandrakala Devaraj were present at the event. Brother Prajwal Devaraj's wife Ragini Prajwal attended the teaser launch event. After releasing the teaser, actor Devraj said, 'Kannada film industry is busy again. At this time, my son's 2nd movie is coming. Director Sai Sivan has made a movie. I have listened to the songs of the film, everything is good. Let this movie celebrate its centenary…' he wished.

Devaraj: 'Prajarajya' teaser was released by actor Devaraj
This time I was an action hero
Sharing information about the second movie, Pranam said, 'I grew up watching my father and brother's movies from a young age. I was a chocolate boy in my previous movie. This time I was an action hero. Sai Sivan has a lot of confidence in him. Producers Mallikarjuna and Vemareddy have supported us a lot. The photography is very well done. Photographers are the reason why I look so good on screen. A hero is recognized only when he has a strong villain opposite him. I got an opportunity to act opposite artists like 'Garuda' Ram in the 2nd film.." he said.

Prajwal Devaraj: 'Dynamic Prince' Prajwal Devaraj starrer 'Gana' shooting complete
Monal is the heroine of the movie 'Vairam'
Monal is seen as the heroine of this film. This is his first film in Kannada. Like she appeared as a Christian girl in 'Viram'. 'This film has a universal message for people. It is said that people should change. We believe that the audience will support our movie..' said Nabata 'Garuda' Ram.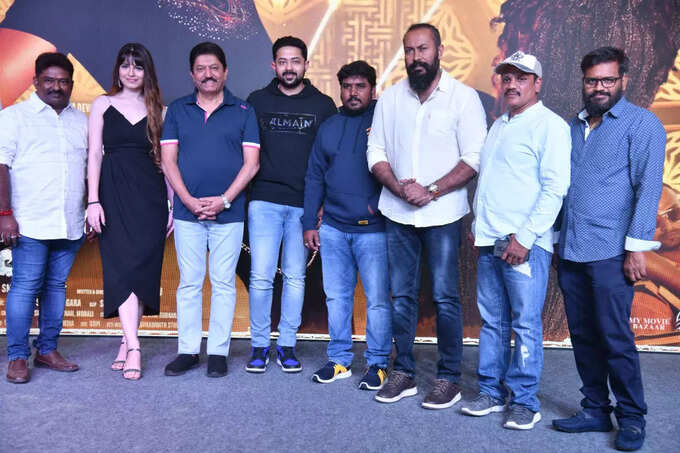 Devraj launched the trailer of Putra's movie 'Abbara'; Prajwal is ready to rock
The film has cinematography by Gopinath and music direction by Mahati Swarasagar. Shankar Ashwath and Veenasundar have played the role of hero's parents. The film has 4 songs written by Kaviraj, Nagendra Prasad and Ram Narayan.
Actors Sharan, Prem, Ravi Shankar Gowda, Naveen Krishna, what is Prajwal Devaraj?
Get the more news updates on Kannada movies
Visit to get more latest Kannada news updates on Jstimesnow