Actor Ananth Nag and Diganth have acted together in many movies so far. Both of them were also in the recent movie 'Galipata 2'. Now Ananth Nag and Diganth have acted together in the movie 'Thimmayya & Thimmayya'. In this movie, they are seen in the roles of grandfather and grandson. The movie will hit the screens on December 2, and before that the trailer of the movie has been released.

What did Anant Nag say about Thimmaiah & Thimmaiah?
The director of this movie, Sanjay Sharma, sent me the script of this movie from Mumbai. The script was entirely in English. As I read on, the story became very gripping. Come to Bangalore and let's talk. Sanjay Sharma, who hails from Karnataka and is working as an advertising director in Mumbai, has made a really good story. His own Rajesh Sharma has produced this movie. You have done a role in this film that I have never done before. The role of Thimmaiah in this movie could not be there for me. But I fulfilled it by doing that role' said Ananth Nag.

Anant Nag: Atleast 3-4 people ask me to do a movie in a week: Actor Anant Nag
Wife Aindritha Ray also acted here
'When Sanjay told me this story, he said that Ananth Nag will play the role of his father. Yes this kind of role can only be done by Ananth Nag sir. I have acted in many films with him. But acting in this film is more fun. My wife Aindritha Ray also acted in this film. Watch our movie and encourage..' said actor Diganth.

Anant Nag's role is important in bringing political change in the state through Ramakrishna Hegade: Aswatthanarayan
I got an offer from Europe to make a documentary. I got two or three stories at that time. We decided to make this story of grandfather-grandson bond into a movie. He wanted to make his grandfather's character closer to Ananth Nag. Glad he agreed to act. The performances of all the artists including Diganth, who plays the role of the grandson, are good. Anoop Seelin's music is another highlight of the film. Thanks to my entire team. The film is releasing on 2nd December, wish it..' said director Sanjay Sharma.

'Sivaramanna organized our artists association' – actor Ananth Nag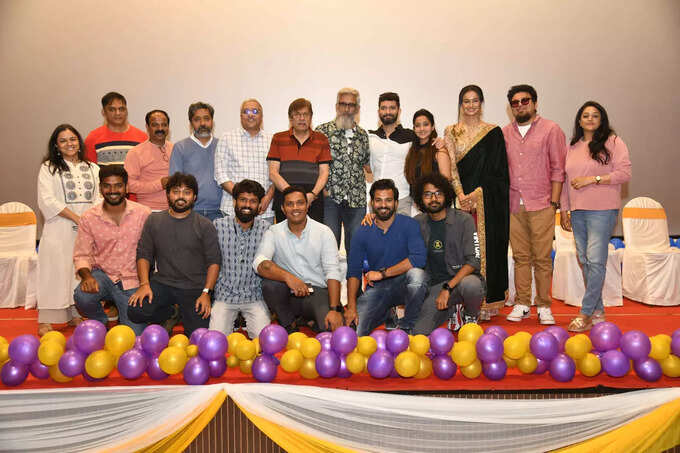 'When I was young, I used to bunk school and watch Ananth Nag's movies. Now I am really happy to have produced a movie starring him..' said producer Rajesh Sharma. Anoop Seelin has composed the music for the songs of this movie. Along with Aindritha Ray, Shubhra Ayyappa, Vineeth, Prakash Tumminadu, Sunil, BT Venkatesh etc acted in this film. Cinematography by Balakrishna Thota and editing by Suresh Aras. Guna Kala is directing and Dixit Kumar is choreographing this film.
'I had hope that Kite 2 would run well, I had faith that people would bless me..'- Actor Ananth Nag
Get the more news updates on Kannada movies