Actress Geeta Bharti Bhatt became famous for the serial 'Brahmagantu'. After that he also went to the Bigg Boss show. He has also painted in some movies. Having given more importance to fitness, he has now also focused on losing weight. Amidst all this, Geeta Bharti Bhatt gave a good news. Yes, Geeta is the heroine now. The shooting of the movie, in which he is playing the lead role for the first time, has started in Sulya.

Minister S. launched the film. Coal
Santhosh Kodankeri, who previously made the movie 'Home Stay', is directing the movie with Geeta Bharti Bhatt as the heroine. The yet-to-be-titled film, which is being produced under Drishti Media and Productions, had a muhurat at Sri Channakesava Temple in Sullya recently. Ports, Fisheries and Inland Water Transport Minister S. Angara kicked off the first scene of the film by clapping.

Geeta Bharti Bhatt decided to go smaller; How will the workout, diet?
Girish Bhardwaj, Chief of Suspension Bridges 'Padma Shri', switched on the camera. Former Lions Club District Governor and JDS State Coordinator M.B. Sadashiva, Sreechannakesava Temple Administration Mokestara Dr. Haraprasad Takiyadka, N.P. Former President M. Venkappa Gowda and other local leaders arrived at the Muhurta ceremony and wished him well.

Bigg Boss 8: 'Brahmagantu' serial actress Geeta Bharti Bhatt is the 9th contestant in the Bigg Boss house
Shooting in Dakshina Kannada for 30 days
We are going to show the culture, language and culture of Dakshina Kannada through this movie. There is a plan to shoot for about 30 days around Sulya, Sampaje, Todika in Dakshina Kannada, says director Santosh Kodankeri. Pawana Santhosh has written the story and dialogues for this film and Santhosh Kodankeri is writing the screenplay and directing. The film stars Geeta Bharati Bhatt in the lead role, Padmaja Rao, Krishnamurthy Kawatar, Sampath Maitreya, Raghu Pandeshwar, Khushi Achar, Meena and Darshini.

Bigg Boss 8 Elimination: Geeta is out of the 'Bigg Boss' show! What caused three to be eliminated for the week?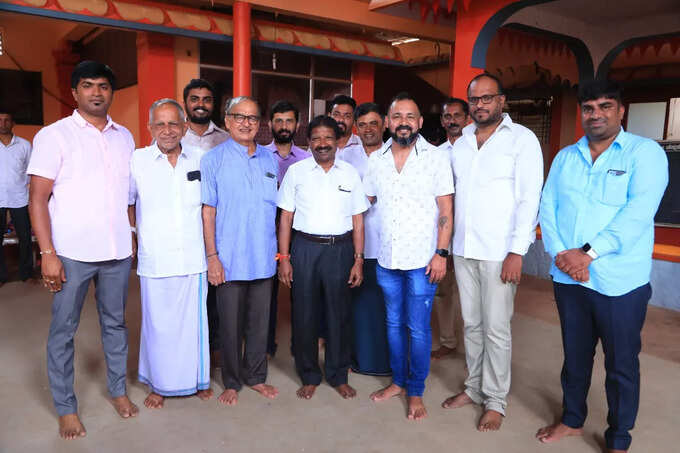 Muralidhar for this movie. M is doing the cinematography and Vinay Sharma is directing the music. Raghu S. The film is composed, Kiran Kaverappa has composed the lyrics and Prasanna-Kalyan Reddy has co-directed the film.
If something good happens between KP Arvind, Divya Uruduga, you will be happy: Geeta Bharti Bhatt!
Get the more news updates on Kannada movies