Actor Raghavendra Rajkumar is busy with series of movies. Now he has given a call sheet for another new movie. This movie is titled as 'Operation U'. Aviram, who has previously directed 'Kannada Darshdol' and 'Kaliveera' in Kannada, is directing this movie. This is a thriller type movie, starring Uttam Pali and Yash Shetty in lead roles. Recently, this movie has completed its anniversary. Raghavendra Rajkumar's wife Mangala Raghavendra Rajkumar clapped and wished the crew for the first scene of the film.

Raghavendra Rajkumar will be playing the lead role while Uttam Pali and Yash Shetty will be playing the leads. Sonal Montero and Lasya Nagaraj will be seen as heroines with him. Actor Ravi Shankar, Dharma, Avinash, Malavika Avinash, Rekha from 'Sparsha', Govinde Gowda of 'Comedy Kiladigullu' fame etc. will paint for this film.

Niranjan Sudhindra: Upendra says that Niranjan Sudhindra's film 'Numma Boys' has twists and turns that no one could have guessed.
Sharing information about the movie 'Operation U', director Aviram said, 'The title of this movie is very special. This is a psychological suspense thriller film. This movie is being made keeping the theme of knocking, knocking and warning the common man. It is believed that this will be another good project after 'Kaliveera'. This is not a regular style movie. It can be said that this is a different kind of movie. The role that Raghan will play in this film will be very special. Not much information can be shared about his character. We will inform you about the first look when it is released. This is a role that conveys a message that society needs, and we are happy that Raghan is acting in our movie.'

Raaji: 'Raaji movie is very important to me for two reasons..'- Raghanna
Manjunath, who is a producer through the movie 'Operation U', said, 'I am making this movie for my daughter. I heard this story when I went to Sri Lanka. Since then I had the idea that this story should be made into a movie. After that I had a discussion with the director. The director has brought this script to life very well. We have selected all the actors needed for the story of the movie.
Raghavendra Rajkumar: 'Vijaya Dashami' Serial Produced by Raghavendra Rajkumar
Produced by businessman Manjunath under the banner of Vidmayi Productions, Operation U, a suspense thriller film composed by Raghavendra V, composed by Halesh S, will begin shooting around Bangalore from the first week of October.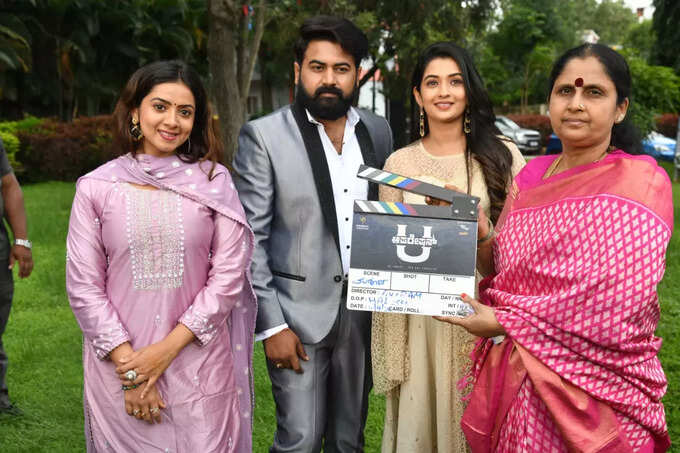 Lucky Man: 'Appu had stopped me, but it's been 8-9 months since I stopped standing properly..'- Raghan
Get the more news updates on Kannada movies