The movie 'Kantara' starring Rishabh Shetty and Kishore is hitting the screens on September 30. A lot of expectations have been placed on this movie. Already from the trailer itself, this movie has caught everyone's attention. 'Rikki', 'Kirik Party', 'S.H.Pr. This is a movie directed by Rishabh Shetty after 'School, Kasaragod'. Apart from directing this movie, Rishabh also acted as the hero. But according to the information now known, 'Power Star' Dr. Puneeth Rajkumar should have been a hero!

Information shared by Karthik Gowda
The movie 'Kantara' is produced by Vijay Kiraganduru of Hombale Films, the producer of 'KGF'. Recently, executive producer Karthik Gowda conducted a Q and A on Instagram about the film. A lot of people asked about 'Kantara'. One of the questions is very interesting. A netizen asked, 'Appu has seen a clip of the movie 'Kantara'..' Karthik Gowda gave a surprising answer to that!

Puneeth Rajkumar was supposed to be the hero of 'Kantara'!
Information that no one knows. Appu sir was supposed to play the lead role in the movie 'Kantara'. We were supposed to shoot the movie in a certain season. But due to the date issue, Rishabh's name was suggested by Puneeth for the lead role," said Karthik Gowda.

Kantara: The trailer of 'Kantara' is a highlight for cinephiles; Rishabh Shetty received huge praise
This is an action drama movie and there will be fantasy as well. Director Rishab has proposed to show the coastal saga through this movie. Hombale Films is famous for producing Pan India movies. But the movie 'Kantara' was produced only in Kannada. But it is planned to release across the country.

Rishabh Shetty has fought without a dupe in the mass movie 'Kantara'
The song 'Singara Siriye..' of this movie has caught everyone's attention. Ajanish Loknath has given the music for the film and Pramod Maravante has penned the lyrics. The movie 'Kantara' is also taglined as a fairy tale. 'Kantara' means secluded forest. In this film, an attempt is made to show the inseparable relationship between nature and man through folk songs. The land of Dakshina Kannada, known as Parasurama Srishti. Folk sports like deity worship, kambala, etc., which take place in this part, are shown in the film 'Kantara'. The main characters here are Siva (Rishabh Shetty) and Muralidhar (Kishore) and the highlight is the confrontation between them.

Kantara Teaser: Kantara is a 'Legendary' involving a mysterious land, coastal culture!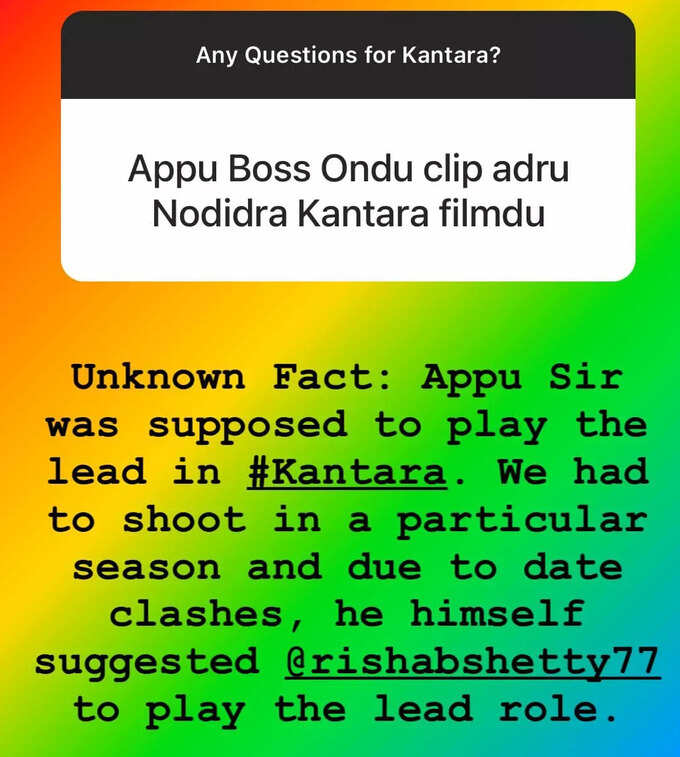 Many artists including Sapthami Gowda, Achyut Kumar, Pramod Shetty, Deepak Rai of 'Popcorn Monkey Tiger' fame have painted in this movie. The film 'Kantara' is set in the villages around Mangalore and Kundapur.
Rishab Shetty: We should look up to Kiccha Sudeep, he is showing the movie 'Vikrant Rona' in 3D..: Actor Rishab Shetty
Get the more news updates on Kannada movies