Starring 'Real Star' Upendra and 'Kiccha' Sudeep, R. The teaser of Pan India movie 'Kabja' directed by Chandru has been released recently. Specially, famous actor Rana Daggubati released the teaser of 'Kabja'. From the moment of its release, the teaser has received immense appreciation and is creating a record in views.

I had already seen Upendra's movies
Speaking on this occasion, Rana said, 'Everyone is like Pan India now, I had seen Upendra's movies in dubbing in the 90s. Upendra sir is afraid to speak in front of him. He is such an amazing actor. Famous actress Shriya Saran also acted in this film. Amazing work of R Chandru and team is seen in the teaser. Rana Daggubati wished 'Kabja' a huge success.

Do you want to make a movie like this?
Director R. When Chandru came to narrate the story to me, I asked him to listen to the story and really want to do this. I was surprised to see Chandru's performance while the shooting was going on. Still very happy to see the teaser. I am eagerly waiting for the release of the film. Most of the credit should go to Chandru. Shreya's performance is also good. Thanks to Rana for releasing the teaser' said Upendra.

Upendra: Special gift from 'Kabja' team for 'Real Star' Upendra's birthday
Congratulations to Shriya Saran
I am happy to have acted in this film. I am especially happy to act with Upendra. He is a very kind and simple person. Chandru sir said little about the direction. My role is also very good' said the heroine Shreya Saran.

Kabza: 'Kiccha' Sudeep in Bhargav Bhakshi avatar; Fans are delighted to see Khadak look
Then R spoke about the film. Chandru said, 'This movie is my dream. Earlier I have directed movies like 'Taj Mahal', 'Char Minar', 'Mailari'. But this is a movie like no other. The film 'Kabja' is well made which means it is not by me alone. From the whole team. Especially Upendra sir's cooperation is immense. 'Kiccha' Sudeep should be remembered at this time. I said I have this kind of role. He accepted and acted. Chandru said that Shriya Saran, who has already made a lot of name, has acted in this film

Upendra: Telugu Posani Krishna Murali, Murali Sharma entered the arena of Upendra.
Heartfelt thanks to South Indian famous actor Rana Daggubati for agreeing and releasing the teaser when asked to release the teaser. Our film 'Kabja' is not a seven language film. It will be released in a total of 9 languages. I will share many things including the release of the film in the coming days' says R. the moon
KGF, Vikrant Rona fame Sivakumar has done the art direction for this movie. Photographer A.J. Shetty's work is getting a lot of appreciation. The film has music direction by Ravi Basrur.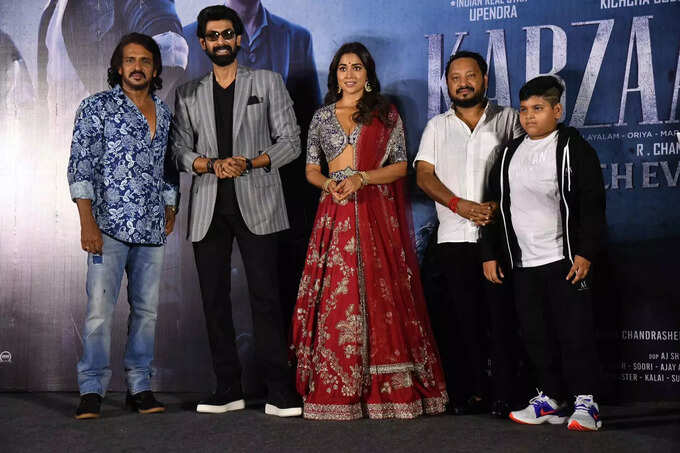 Kabza: 'Kabza' teaser released on Upendra's birthday; 'Kiccha' Sudeep talked about the film
Get the more news updates on Kannada movies