Dolly Dhananjaya, who has gone to play cricket for the Rajcup to be held in Dubai, thought that he would promote the film 'Head Bush'. That's how MP Jayaraj got up and appeared at the airport. After that, MP Jayaraj's daughter-in-law, Ajith's wife Impana gave a social media post.

Jayaraj's son's opposition to the movie Head Bush
MP Jayaraj's son Ajith had objected to Dolly Dhananjaya starrer 'Headbush' saying, "My father's name is being misused in the movie Headbush. As his son, I can't stand it." The argument of that opposition continues even today. Agni Sridhar has written the story for this movie and clarified that it is not a biography of Don Jayaraj but a story of a period. Impana, who earlier supported her husband, again shared a social media post and opposed the movie Head Bush.

Jayaraj's daughter-in-law who gave a nod to the movie Head Bush
"Even though he is not alive, he is still a king. Some people go to be like him and fail. Those who are below you are trying to become you using your name and are also failing. You see, Ajith will never let you down," Impana Jayaraj posted on social media.

Dolly has created curiosity among the audience: 4 movies are ready for release in 4 months

Jayaraj's sister who batted for the movie Head Bush
"Some people say they know my brother, are related and make me laugh by speaking for publicity. His name controversies are old now, they are now comedies. My brothers are the ones who tell the world about my brother's personality as a part of Headbush movie. Good luck to Headbush movie team," said Jayaraj's sister Hemavati of Dhananjaya movie team. He has posted on social media in favor of it.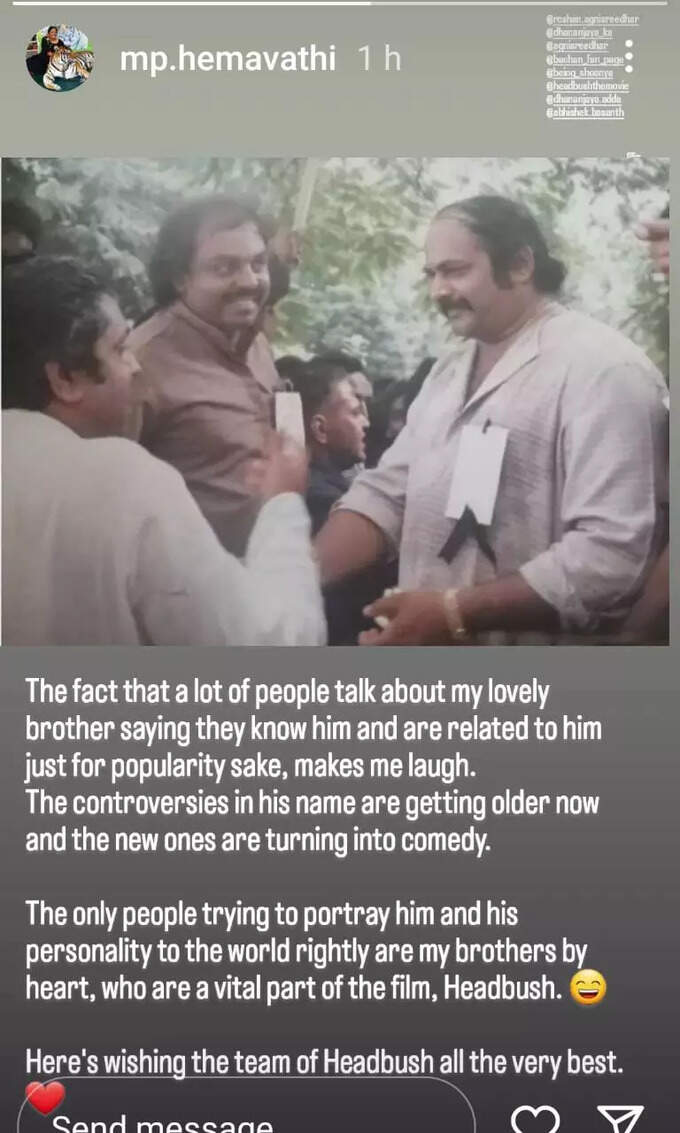 Head Bush: 'Dolly' Dhananjay leaves for Dubai in Jayaraj style; Full mincing at the airport

What's in the movie Head Bush?
Based on the period story of Jayaraj, who was a don in Bangalore's underworld, the movie Head Bush is made in retro style. Dhananjaya played the role of Jayaraj in this movie. Vasishtha Simha, Raghu Mukherjee, Devaraj, Loose Mada Yogi and many other artists have acted in this movie.
Head Bush: MP Jayaraj's son Ajith is lying: Agni Sridhar's reaction to Dolly Dhananjaya's 'head bush' controversy
Head Bush: Yash is our boy, tomorrow Dolly Dhananjaya will also become Yash Tara: Agni Sridhar
Get the more news updates on Kannada movies