Actor rocking star Yash is floating in 'KGF 2'. Fans are waiting for Yash's next movie. Meanwhile, Yash weather was strong in Mysore on Thursday. A small change can make a lot of difference in life. Rocking star Yash said that if you have confidence you can achieve anything.

He said, "Mysore is Nammur. I have walked here in Paduvarahalli, Kalidasa Road and Gangotri. I have come here with great pride as a national flag hoisting program has been organized in Nammur. My parents were not happy when I was a student. A small change in life. "It will bring a lot of change. I have not changed much. I am still the same as I was before," he said.

Raksha Bandhan 2022: 'Rocking Star' Yash celebrates Raksha Bandhan with sister Nandini

"We are celebrating the country's 75th Independence Amrit Mahotsav. Everyone should get information about the government's schemes and make good use of it. It is difficult for the government to bring everything to people's doorsteps. Everyone should joke in life, have fun, keep smiling. Don't miss any chance of happiness," he advised.

Samantha Fida for the voice of Yash in 'Rocky Bhai'; What did this actress say about Ram Charan and Allu Arjun?

"There should be crazy self-confidence. Did anyone guess that Kannada film industry will grow big? You talk and think good things. Then it will be good. You do good things. A government should be born within us. Everyone can achieve progress of the country by working hard in his profession. It can grow from the corner of the village. "If you have the will to achieve, victory is possible. Have fun, don't be too serious. Enjoy small pleasures. Hang out with friends, enjoy life. CM has many dreams. I hope all his dreams come true," he said.

As actor Yash took the stage, the student body whistled and clapped and showed their appreciation. Whoever stood up for the guest speech would shout Rocky, Rocky.

Bommai sang and praised
Inspired by the enthusiasm of the students, CM Basavaraj Bommai also praised Yash in his speech. Yash is not only a rocking star of Kannada cinema. He is a youth icon. Not only the Kannada film industry but the entire Indian film industry turned towards him. He became a rocking star for the entire country with the success of KGF 1, KGF 2. Yash spread Kannada and Kannadana all over the country. You must become like them. He said that anyone can become anything if they have self-confidence.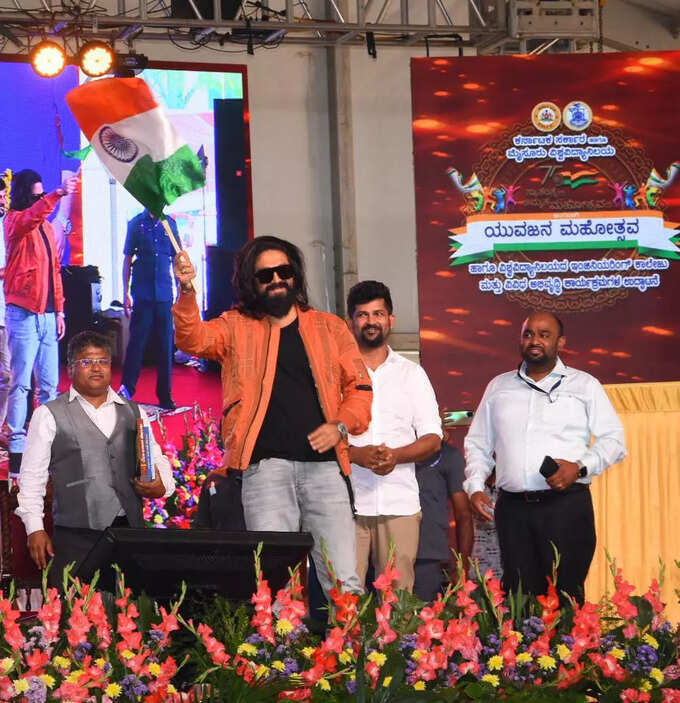 Get the more news updates on Kannada movies