Actress Reeshma Nanaiah has created a huge demand in Sandalwood. Reeshma, who entered the film industry with the movie 'Ek Love Ya' directed by 'Jogi' Prem, is now busy with 2-3 movies. Amidst all this he has appeared in a video album song. Yes, this album (video song) composed by famous singer Naveen Sajju Kanthasiri has been released by A2 Music. Producer Ben.Co.Shree who has produced many super hit movies. His son Akshar also featured in this album song.

Recently, the release ceremony of this song was held in a grand manner. Producer Ben.Co.Mr. He wished for the release of 'Chhee Kakh' album. 'Chhee Kakh album song is very good. I have produced seven films so far. Some of those films have also received state awards. My son needs everyone's encouragement' said Ben.Co.Mr. This album song was directed by Punarv Akarsh, composed Vismaya Jaga raga and penned the lyrics. Nagendra has choreographed this song.

Reeshma Nanaiah: Actress Reeshma Nanaiah danced as 'Mellusire Savigana' in the movie 'Spooky College'.
Reeshma Nanaiah in the album song
Among them was Khushi actress Reeshma Nanaiah, who acted in an album song for the first time. 'Chhee Kakh album song is very good. This is the first album in which I have acted,' said Reishma Nanaiah. After 'Ek Love Ya', Reeshma has painted in the movie 'Rana'. That movie is yet to be released. After that, Reeshma acted in Ganesh starrer 'Bana Darile'. Dhanveer's new movie also features Reeshma as the female lead. Now he has acted in the album song and has attracted everyone's attention.

Reeshma: 'Ek Love Ya' beauty Reeshma Nanaiah got a 'golden' chance!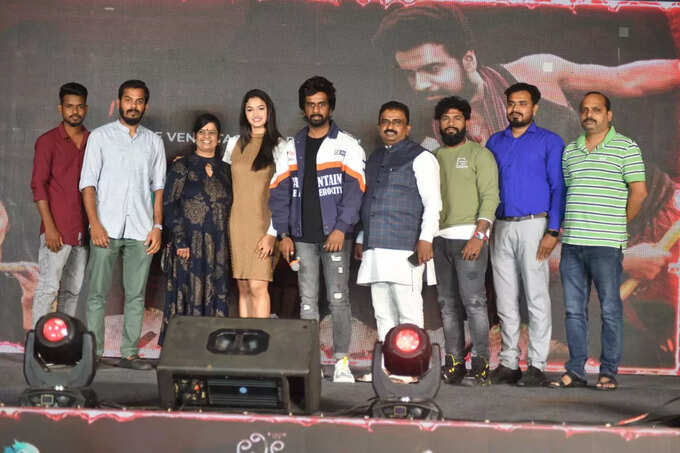 I want to act in movies. I acted in this album song as a prelude to it. The song is even more beautiful as Reeshma Nanaiah has acted in it. Vismaya Jag has written a wonderful song and also composed the melody. Directed equally brilliantly by Punrav Akarsh. Singer Naveen Sajju has sung melodiously. Naveen Kumar and AJ Shetty's cinematography for this song is great to watch. Above all thanks to A2 Music for releasing our 'Chhee Kakh' album,' said Akshar.

What is the New Year plan of 'Ek Love Ya' movie actor Rana and actress Reeshma Nanaiya?
'I got an offer for the movie 'Ek Love Ya' on April 1..'- Actress Reeshma Nanaiah
Get the more news updates on Kannada movies