Praveer Shetty, son of Karnataka Defense Forum State President Praveen Shetty, has entered Sandalwood with the film 'Siren'. Recently the teaser release ceremony of this film was held in a grand manner. Sandalwood 'Vice President' Chikkanna released the teaser of 'Siren' and wished the film crew.

Siren must give way
Chikkanna wished Praveer Shetty and said, 'Everybody leaves the road when they hear the sound of a siren on the road. Now let this 'siren' also make a huge noise in Sandalwood. Let this movie of Praveer Shetty be a huge success. Praveer Shetty has made good promises in the teaser itself. Praveen Shetty is at the forefront of pro-Kannada struggles. May his son be well,' he said.

Chikkanna: Sequel to 'Adhyaksha' 'Upadhyaksha'; Chikkanna prepares to become a hero!
This movie is dedicated to Apgu
Talking about the film 'Siren', hero Praveer Shetty said, 'We dedicate our film to 'Power Star' Puneeth Rajkumar. The director of this film, Raja Venkaiah, met me and narrated the story. Liked it a lot. This film is produced by Biju Sivanand. May our film be supported by you', he said.

Kaneyadavara Bagge Prakatane: Laughing, Laughing, Erasing Rangayana Raghu, Ravi Shankar & Tabla Nani
Umapati Srinivasa Gowda, the producer of Robert, Madagaja, Hebbuli, wished the film team and said, 'Praveen Shetty's circle of friends is huge. I request to do the programs of this movie in the palace premises. The teaser is very good. The film will also be good, good luck' he said.

'Missing Persons Announcement': Raghu, Ravi, Nani Missing!
The movie 'Siren' is directed by Raja Venkaiah. I have been in the film industry for the past 20 years. I have also worked as a photographer and editor. Now I have directed the film 'Siren' in Kannada. This is a suspense thriller film. The hero Praveer Shetty has acted very well. "I will share more information about the film during the next audio release," he said.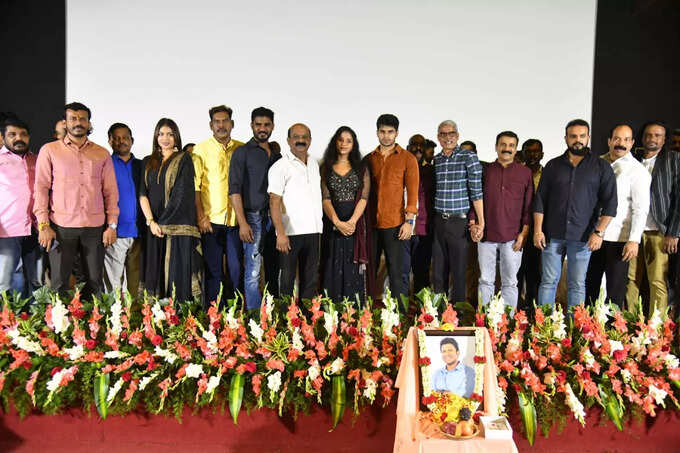 Lasya is seen as the female lead in the film. Sarath Lohitashwa, Sukanya, Achyut Kumar, Pavitra Lokesh played the lead roles. Cinematography by Nagesh Acharya. Lahari Velu, Sivananda Shetty, Palani Prakash, Sarath Chandra Sanil and many dignitaries were present in the event.
Karave Praveen Shetty's son enters the film industry; Wished 'Vice President' Chikkana
Get the more news updates on Kannada movies