Highlights:
Puneet Rajkumar on his Vijayanagar tour
Spending time with the shepherds at Koppal Shepherd's Hat
Puneet Rajkumar is a fan of Fida
Dr. Like Rajkumar, his son, 'Power Star' Puneet Rajkumar Famous even for simplicity. He takes a break from the cinema work. He had recently visited Koppal. They had gone to the Anjanadri mountain in the Ganges. Since the entrance to the hill has been banned, they have wandered in the local villages. At this time the shepherds had a meal with the sheep at the shepherd's hut. Those photos have now gone viral on social media. Fans, who have seen the simplicity of Puneet Rajkumar, call it the 'Empire of Puneet'.

Puneet was on his way to Vijayanagara, visiting the Rishimukha mountain, Gangapawi, Sanapura, Bundi Harlapur and Narayana Pate. At this time they have seen a shepherd on a farm. Appu had gone there and had talks with him. He spent some time there and had lunch with them. On the floor there is a blanket on the floor, a shepherd's meal on it, a milking of milk and a simplicity. He clicked a photo with them.
He then visited other places including the Sapapura Lake, the Sapapura Pals, and the Stone Bridge. Fans who saw Puneet celebrated by clicking a photo with him. In addition, Puneet watched a concert by local artists at the Lee Wooden Resort on the banks of the Tungabhadra River.
Video: 'When Old Monk' hit everyone's head – actor Puneet Rajkumar!
Puneeth Rajkumar had just visited Shimoga. Sakrebailu, near Shimoga's Gazanur, had arrived at an elephant crawl. He had come for the documentary shoot. Elephants hug the scene and Kunti and
Shots were shot of elephants named Dhanush.
Puneet Rajkumar, who visited Sakrebail in Shimoga; Because of the surprise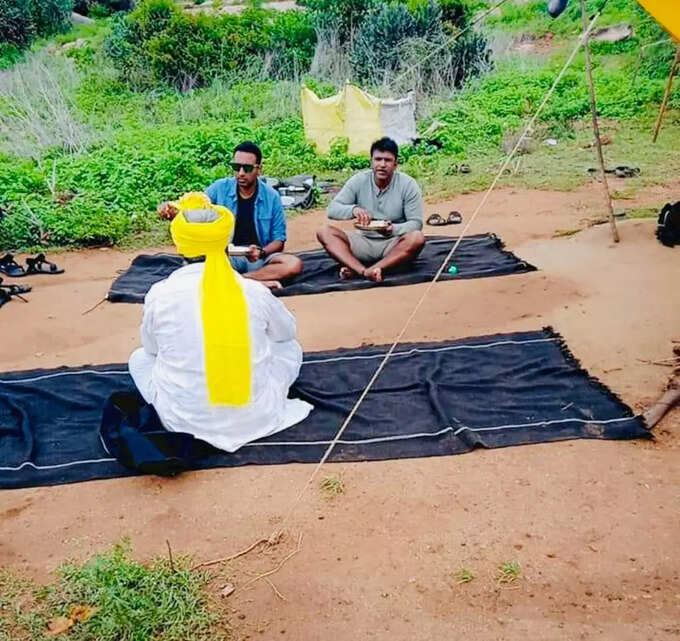 Puneeth is currently working on 'Duality' directed by Pawan Kumar, the director of 'U-Turn'. The film is being produced by a company of puppets. This is a psychological thriller. Trisha Krishnan is the heroine of this film. As of 2019, the script work for the film has been done. But now it has come to the implementation stage. Preetha Jayaraman will do photography for 'Duality'. Poornachandra Tejaswi is composing music. In addition, 'directed by Chetan Kumar'James'Puneeth is busy.