Highlights:
35th Birthday to Rocking Star
Wish from all to Pan India Hero
Greetings
Hrithik Roshan's wish came true
Actor Yes Birthday is celebrating today (Jan. 8). Raised as a star at the Pan India level, he is a prolific star artist. Bollywood They are also surprised by the Yash weather. Here's the best example …
A few years ago, the market for Yash acting films was limited to Karnataka. But now their movies are dubbed as a dual language. The 'Rocking Star' has shown its potential at the Mumbai box office too. As such, B-Town celebrities are familiar with Yash. Today Birthday He is being greeted by Bollywood stars like Sanjay Dutt and Raveena Tandon.
Superstar of Bollywood Hrithik Roshan Attention is also directed towards Yash. Hrithik is an avid Kannada star artist who has been steadily climbing the ladder of achievement in Indian cinema. The Greek God Hrithik Roshan tweeted "Happy Birthday to you Yash". Yash fans are delighted with this.
Also read: Happy Birthday Yash: 35th Birthday to Rocking Star Yash! What's up
Is there any other indication of Hrithik's wish for Yash? Fans are also thinking in this dimension. Not only Sandalwood, but Yash is also in demand in Bollywood. There are many director and producers waiting to make films with him. So the question of whether Yash and Hrithik could make a film together is a question that has been raised. If this were the case, it would be a real feast for the cinematographers.
Also read: 'Rocky Bhai' Mattendu's appeal to 'rocking' fans!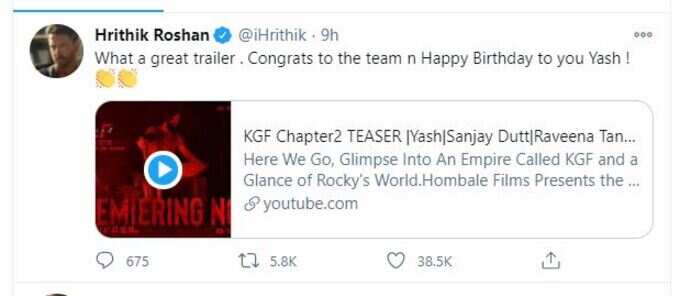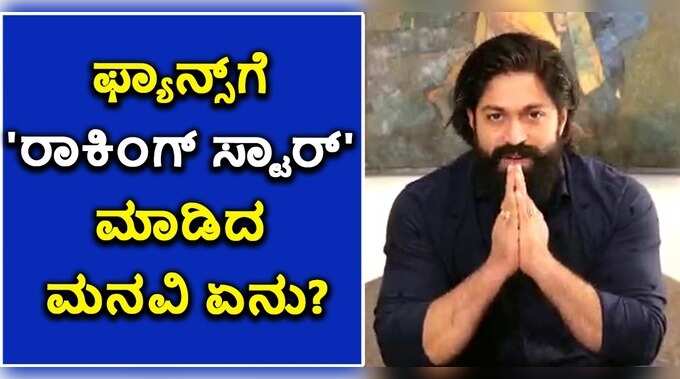 Video: What is Rocking Star Yash fan appeal?