Padma Shimoga
Kannada film actresses are no longer confined to cinema. In addition, they are focusing on their hobbies and interests. Despite his busy schedule, he is busy with various activities on social networking sites. Here's what somebody's doing now.
Sudeep who enjoys cricket
Actor Sudeep admires cricket. Playing cricket often. Sudeep, who wants everyone involved in the sport, has now hosted a wheelchair cricket match. Ans. On the 16th, two matches have been arranged for wheelchair cricketers.
He has also started a charitable trust in his name and has done many things. The veteran director, who is now sick, has been named A.T. Raghu is confident that he will help him. Director Raghu is suffering from financial hardship, suffering from kidney failure. 'We are with you. We will help and be brave, "Sudeep said. A.T. Ambarish has acted in over 20 films directed by Raghu.

Darshan clicked the tiger
Actor Darshan recently rode a bike with friends to Kerala. Now they are back to their favorite wildlife photography. Huli has been photographed in close proximity to the Nagarhole Sanctuary. The video has now gone viral on social media.

Puneet in the lap of nature
Actor Puneet Rajkumar enjoys visiting the surroundings wherever he goes for a movie shoot. The shooting of 'James' is now back on the beach in Gokarna and has caught everyone's attention. The video was shared on their FB page, showing a wide ocean background. Thanks to Gokarna for giving the beautiful background. From here, they have traveled to Kodagi and have seen the waterfall there. Then the Chamundi hill is climbed barefoot.
Saiyesha of musicianship
Actress Sayyesha, who plays the female lead with Puneet Rajkumar in 'Yuvaratna', has expressed her interest in music. Share a video of her playing a harmonium on the social network, claiming she had an interest in music from an early age.
'I've been learning music since I was 5 years old. This is my passion. Whenever I look at the music web series, I often feel a sense of peace and openness in my mind, "he wrote. Sayyesha sings the harmonium playing the vowels.
Actor Darshan captures tiger photo in Nagarhole Dasan appeal among fans
Historical sites
Actor Anirudh engaged in social work with the slogan 'I am Clean for Partners'. Recently, he was trying to raise awareness of cows eating plastic in a pile of cows in Gokarna village in Uttara Kannada district. Now the law in Gerusoppa has drawn attention to the dilapidated historic site. Sharing the photos here on the social network, the site details its history and significance. Nayakaru, a place in Honnavar Gairusoppa, is the remains of the first merchant queen who was known as the Queen of Pepper. It is the capital of the most prosperous and disciplined queen during the give-and-take. A historic place has lost its existence and is today sidelined. " In addition, the law also shares information about the importance of the fort, its natural wealth, the queen's acquaintance, its administration, and its historical sites.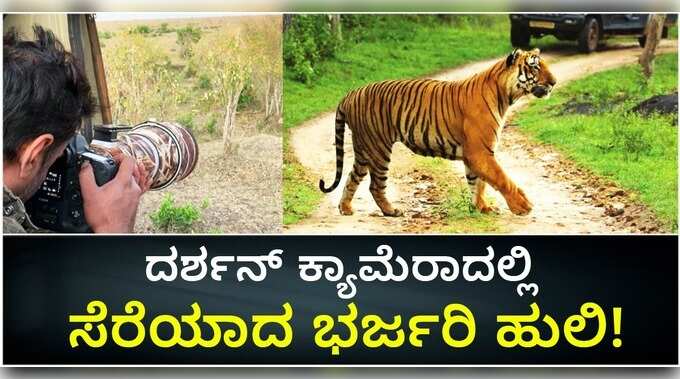 Video: Darshan caught in camera in Nagarahole jungle!