Harish Basavaraj
Suri is doing the cinema which is created from the very beginning. All the films he has directed so far have not faked the expectation of the audience. This time, with the shooting of Ambarish's son Abhishek, his directorial debut, 'Bad Manners' is about to begin.
Director Suri 'Abhishek Ambarish' is all set to start shooting from the 15th of this month. We will all be in the shooting set from the next day. We haven't been to the filming set since January last year. We are now shooting a year later with a special experience. For 15 days in the first phase
Mandya
We're shooting in and around it. "
"We are the ones who grew up watching all the films of Ambarish," he said. There are plenty of things that his fans will enjoy. Everyone is asking whether this movie is being shot in Mandya due to Ambi Putra. But I was shooting there because some of the hostels and buildings were accustomed to my story. There is a gang with Abhishek in the film. We are choosing a lot of artists for that. I will tell you all in the near future. Shekhar, who was on my Popcorn Monkey Tiger Cinema Team, will be doing cinematography this time too. Music director Charanraj continues as usual. Masti and I were reunited after the Tagaru Cinema. There will be a very good dialogue in the film. "
Abhishek Ambarish as 'Bad Manners'
Abhishek of the small
Abhishek has been working out for the Suri film for the past six months. Already small enough, they are going to lose even more body weight by the end of the movie. "Abhishek has been working out since the day the cinema was announced, and that's how I want my story. We were filming the fight scenes first. Ravi Verma is working on it.
Suri says that the simple and beautiful story in this film is a commercial, with wonderful songs, mass scenes, khadak and fun conversations.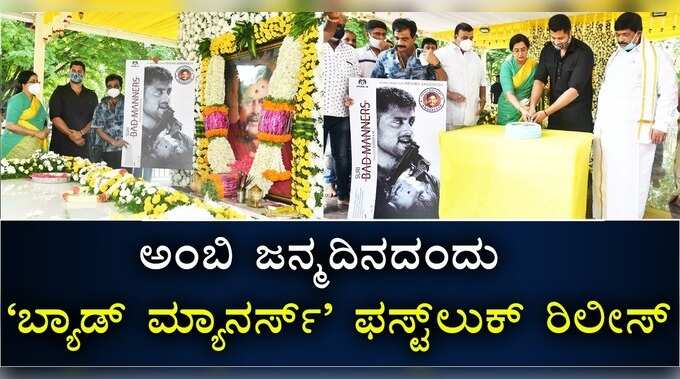 'Bad Manners' FirstLook Video Release on Ambarish's Birthday