It is said that being a mother is the most beautiful feeling in this world. It is such a happy moment, which every woman wants to live. Every woman's life changes after becoming a mother. This is not only with common women, but it is also the same with all the actresses associated with the film and TV industry. Always staying tip-top, being in limelight, shooting… Even though her life is completely different, but when she finally becomes a mother, she feels the same as every woman. Be it Kajal Aggarwal, Priyanka Chopra or Kareena Kapoor and Dia Mirza, all these actresses have become mothers. From pregnancy to giving birth to the child and since then, she has constantly said that being a mother is the most beautiful feeling. Many of these actresses are also those who have been suffering for years to become a mother and they had to resort to surrogacy. On this Mother's Day (8 May), all these actresses have shared beautiful posts on social media and have also shown glimpses of their children.

1. Kajal Aggarwal
View this post on Instagram

Kajal Aggarwal became a mother on 19 April. She gave birth to a son, who is named Neil. On Mother's Day, she showed the first glimpse of her son to her fans. There was relief on the face of the actress hugging him. He wrote in a long note that he would teach her everything that he taught her.
2. Preity Zinta's Twins
View this post on Instagram

Actress Preity Zinta, who shared very few photos of her children on social media, shared a glimpse of the twins this Mother's Day. While showering love on his children, he wrote that now he has understood motherhood. She told that earlier she used to think about herself and now she thinks about the children first. He called it beautiful.
PHOTO: From Katrina Kaif to Alia Bhatt, these celebs celebrated Mother's Day like this
3. Priyanka Chopra
View this post on Instagram

Priyanka Chopra and Nick Jonas became parents this year through surrogacy, but the actress has now shared the first photo of daughter Malti Mary Chopra Jonas. He told that she stayed in the hospital for 100 days and now she has come home. He told that the last month was like a roller-coaster, but every moment was precious.
4. Kareena Kapoor
View this post on Instagram

Kareena Kapoor shared a lovely photo with her darlings on this Mother's Day. All three had a lot of fun in the pool. He described both the sons as the length and breath of life. She looked very happy to have the children glued to her chest and this photo also gave peace to the hearts of the fans.

Priyanka Chopra showed the first glimpse of her daughter, little Malti Marie Chopra Jonas returned home after staying in the NICU of the hospital for 100 days
5. Anushka Sharma
View this post on Instagram

Anushka Sharma and Virat Kohli's little angel Vamika was born on 11 January 2021. However, both of them have not yet shared the glimpse of their daughter on social media. Anushka shared an unseen photo of her daughter this Mother's Day and thanked her mother for her support.
6. Bharti Singh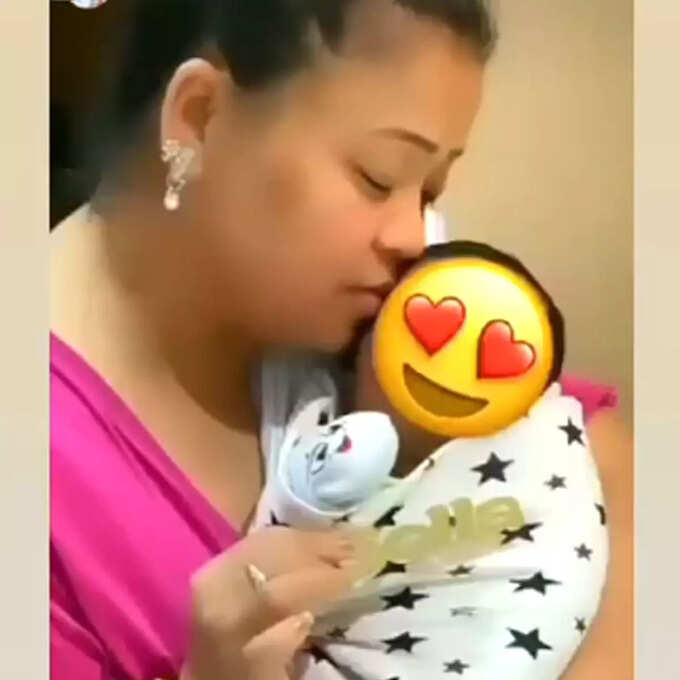 Comedian Bharti Singh became a mother only a few days ago. She kept shooting till the last days of pregnancy and was active at the time of delivery and made YouTube videos. She has named her son Gola, whose glimpse she keeps showing in the videos. She even jokes about the child. Just a few days back he had told the paparazzi that he drinks milk and sleeps… is very busy. Hearing this, everyone laughed. On this Mother's Day, she shared a photo of her son kissing, but put an emoji on his face.

Priyanka Chopra's daughter was born premature, Parineeti Chopra said – Sister was like a soldier in the hospital
7. Debina Banerjee
View this post on Instagram

TV actress Debina Banerjee gave birth to a little angel on 3 April. She was very active on social media during this time. She shared a beautiful photo with husband Gurmeet Chaudhary while kissing her daughter on this Mother's Day.
8. Deeja Mirza
View this post on Instagram

Actress Dia Mirza also shared a photo of her darling on Mother's Day and wrote, 'A child gives birth to a mother'. He has also shared the photo of step-daughter Adara.