popular actors of hollywood
Dwayne Johnson
(Dwayne Johnson) and
Vin Diesel
(Vin Diesel) has a tremendous fan following. The whole world is crazy about them. Fans want to see them together too, but it seems that this wish of the audience will not be fulfilled, as both are no longer friends. They haven't faced each other in years. Let us tell you what is the root of this 'enemy' and how it started!
Dwayne Johnson accused Vin Diesel of 'manipulation' after he dragged the names of children and Paul Walker into a social media post. Along with this allegation, Dwayne also turned down Vin's invitation to return to the 'Fast and Furious' franchise.

Vin had pleaded to come back

In November 2021, Vin Diesel shared photos of his characters from 'The Fate of the Furious' on Instagram and told his 'younger brother' Dwayne, 'The time has come'. He said he promised Pablo (Vin Diesel's nickname for Paul Walker) that he would make the best "Fast and Furious" finale. Vin Diesel further said, 'I am saying this by falling in love… don't leave the franchise unnecessarily, you are playing an important role in this.'
Dwayne's answer
Dwayne Johnson said in a recent interview to CNN, 'I told (Vin Diesel) directly that I would not return to the franchise. I was very firm with my words and also said with restraint that I will always support the cast and remain involved for the success of the franchise, but there is no chance of me coming back.
This allegation was made on Vin

He further said, 'Vin's recent public post was an example of his 'manipulation'. I didn't like that he dragged his kids into this post. As well as the death of Paul Walker. Keep them away from it. We talked about this months ago and came to a sensible conclusion.
Dwayne was associated with the franchise in 2011
Dwayne Johnson was associated with this franchise in the year 2011. He was also a part of 'Fast and Furious 6' in 2013 'Fast and Furious 6' and 'Furious 7' in 2015 and 'The Fate of the Furious' in 2017 as an agent of Diplomatic Security Service.
This post revealed the dispute

The fans had no idea what was going on behind the scenes. The differences between these stars were realized when Dwayne Johnson shared a revealing post on Instagram. After that a quarrel ensued. The deleted post read, 'My female co-stars are always amazing and I love them. However, my male co-stars have a different story. Some project themselves as stand-up men and true professionals, while others do not. When you watch this movie next April, it will feel like I am not acting in some of these scenes and my blood is boiling.
Dwayne also clarified on the post
After this post, Dwayne spoke to Vanity Fair and told that whatever he wrote was not what he meant. He also told that he regrets posting it on the social media platform. He said, 'It has caused a big fire. It was interesting, however, as every crew member came up to me and silently thanked me or sent me a note. But yes, it was not my best day to share this. I shouldn't have shared this because in the end it goes against my DNA. I do not share such things and I do not care about people's nonsense.
refused to work together

Talking about a meeting with his old co-stars, Dwayne said, "He (Vin Diesel) and I had a good conversation about my trailer. It became clear that we were two different ends and agreed to leave it there. While Dwayne declined to do F9, he starred in the spinoff film 'Hobbs & Shaw' alongside Jason Statham.
Since then, both the stars have been constantly commenting on each other, which becomes a matter of discussion. From these comments, it seems that nothing is going to fix between the two anytime soon. Well, the fans of both definitely want to see them together on screen.


Dwayne Johnson gives a shock, will never be part of 'Fast and Furious' anymore because of Vin Diesel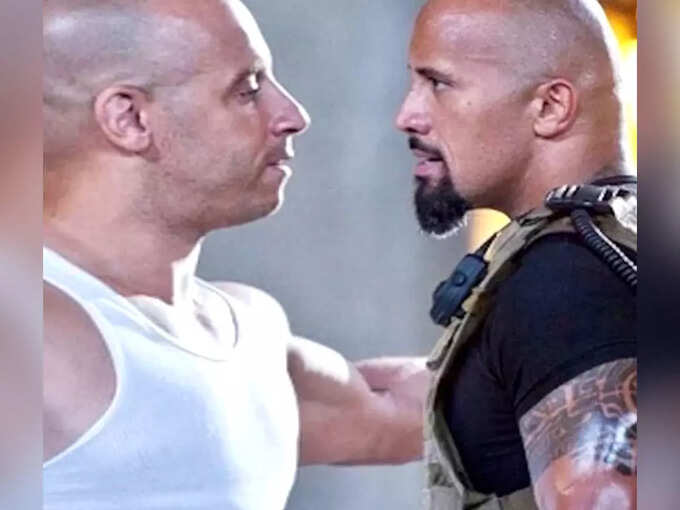 Get More Hollywood news Updates