Actor Govinda (
Govinda
) was blown away when he saw that a fake news was being run in his name. Govinda immediately took action on this and alerted his fans on social media.
Govinda recently noticed that by giving an advertisement in his name, a fake (Govinda fake news meet and greet event) scam is being done. It has been told in the advertisement that fans can get a golden opportunity to meet their favorite actor Govinda in the program to be held in Lucknow on 20 December. But if Govinda is to be believed, he is neither a part of any such event nor does he have any information about it.

As soon as Govinda's eyes fell on this viral advertisement, he alerted the fans. He posted this ad on his Instagram (Govinda Instagram) Shared on the story and wrote – False news.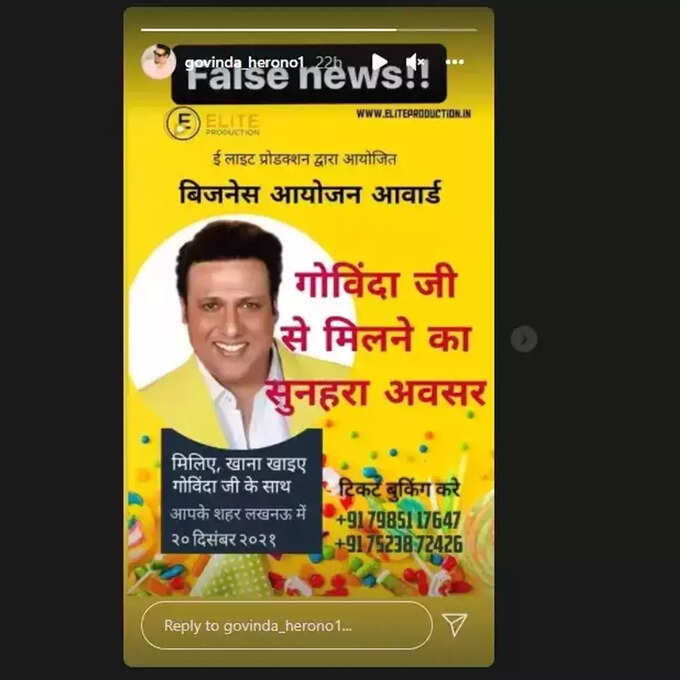 The advertisement reads, 'Business Organizing Award by E Light Production. Golden opportunity to meet Govinda ji. Meet, have food with Govinda ji. In your city Lucknow.' In this, two mobile numbers have also been given for booking tickets for the event on December 20.
Talking about the professional front, Govinda recently released his song 'Tip Tip Barsa Pani' (Govinda tip tip barsa pani) was released, which was well-liked by the fans. Govinda released it on his YouTube channel 'Govinda Royals'. The funny thing is that this song has been written and sung by Govinda himself.