'Indian Ideal' fame and YouTuber Farmani Naaz Shivbhajan has come under attack from fanatics by singing 'Har Har Shambhu'. Farmani has millions of followers on YouTube, but has faced the ire of hardliners because of the hymn. The ulema of Deoband are very angry about Farmani's Shiva hymn 'Har Har Shambhu' and they say that Farmani should get away from it. Farmani has faced those difficulties in his life, in front of which people kneel down. Farmani is focusing on her hobbies, her passion and her goals, and it is said that she has spent Rs 1 crore on setting up her studio. Farmani himself has given this information.

By uploading a video, Farmani has told how hard she has prepared her studio. However, there was a time when in the show of 'Indian Idol', he had admitted that he got name and fans on YouTube, but it did not get him money. When asked, he told that his channel is handled by someone else. Now this video of Farmani Naaz is making headlines, in which he himself has told that due to the prayers of the fans and his hard work, he has prepared his own studio.

In this video she is seen saying, 'People take my studio to make a video but today I myself will show you my studio, where we record the song. Farmani is seen saying – look how beautiful it is from outside When you see it from inside, your senses will fly away.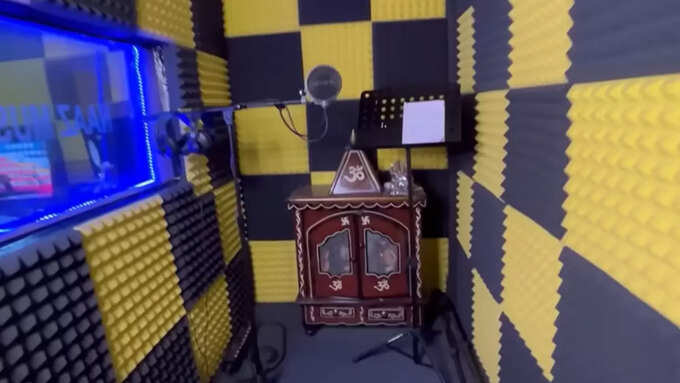 After this she enters her house in which her luxurious studio is built. Farmani walks around every corner of the house showing every angle and then she goes inside the studio and shows the awards from YouTube adorned on the walls. She shows the lights inside the room and then shows the inside view of the main studio.
Farmani is saying, 'This is our main studio for which we have worked so hard till date.' She also introduces him to a writer who writes songs for him. Farmani has also kept a small temple inside this studio. She showed up where she sings a song standing with her brother Farman and is seen asking her fans to always support her while thanking her.
Let us tell you that Farmani had gone to participate in 'Indian Idol 12', but due to the ill health of the child, she had to leave the show midway.

Get the more news about Entertainment