Directed by Ayan Mukerji, 'Brahmastra' is scheduled to release on September 9. Its poster, teaser and trailer have all been released and now the audience is eagerly waiting for the full film. It stars Ranbir Kapoor and Alia Bhatt in lead roles. But there are also some such artists, about whom the makers did not tell, but the audience zoomed their eyes and recognized them. Along with this, his picture has also been shared on social media.

If you remember, earlier the fans had claimed the presence of Shah Rukh Khan in Brahmastra. Posting a photo from the motion teaser, it was said that the one with long hair and 6 pack body is none other than King Khan. But the makers did not reveal this. Now when the trailer came, there was talk of Deepika's existence. People shared a close-up screenshot of the character of 'Jal' in the film and claimed that it is Deepika Padukone.


Controversy over a scene of Ranbir Kapoor before the release of Brahmastra, director Ayan Mukerji clarified

The teaser of Brahmastra also features Shahrukh Khan! Did the Jabra fans show you what they saw?
Claims to be Deepika Padukone in 'Brahmastra'
However, there is no exact information about them yet. But the way that woman in red sari and matching blouse is coming out of the river and the winds are following her, seeing her physique, it is being speculated that she is Deepika Padukone. Now tweeting this photo, the fan wrote, 'The water character of Brahmastra looks exactly like Deepika. Blue energy is also coming out of their hands. Another wrote, 'It's only Deepika.'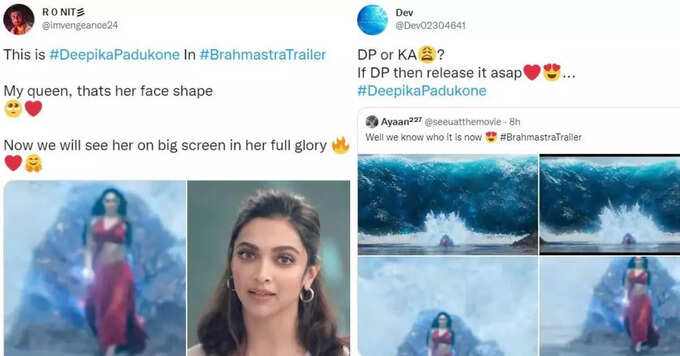 When Aamir Khan asked Shahrukh Khan for advice on smoking in front of Big B and Amitabh Bachchan did a class
Deepika Padukone or Kiara Advani in 'Brahmastra'?
However, in the meantime there was speculation about the presence of Kiara Advani. One wrote, 'Is this Deepika Padukone or Kiara Advani? And if Deepika is there then it should be released as soon as possible. One fan wrote, 'It is Deepika Padukone in the Brahmastra trailer. My queen, this is the shape of his face. Now we all will see him on the big screen. Let us tell you that along with Ranbir and Alia in Brahmastra, Mouni Roy, Amitabh Bachchan and Nagarjuna are in lead roles. The film, scheduled to be held on September 9, will be released in 2D and 3D.
Get more latest news updates on Entertainment