Bollywood's famous designer Swapnil Shinde has now changed from male to female. He has got his sex changed and declared himself to be a transwoman. Swapnil has also changed his name to Sayasha Shinde. In Swapnil Bollywood, Kareena Kapoor to Katrina Kaif and Kiara Advani to Deepika Padukone, Anushka Sharma, Hina Khan, Sunny Leone have designed dress and fashion for all the stars.
Share photo on Instagram, name changed
After becoming Saisha Shinde, she has also changed her name on Instagram. However, his profile handle is still spontaneous. While announcing her being a transwoman on social media, Saisha has also shared her emotional story. He said that the reason behind the name 'Saisha' is that it means 'a meaningful life'.
Saisha wrote an emotional note

Apart from sharing her latest picture on Instagram, Saisha also shared a note. In it she writes, 'During school and college, all the boys used to stay away from me. He would drive me away because I was different. But my inner pain was much more than this. I was living a truth that was not mine. I used to feel suffocated. A life I had to live every day, in which social expectations and norms had to be fulfilled. Those were my early days at NIFT. At the age of 20, I got the courage to accept my truth. I really blossomed. '
'Not revealed 6 years ago, I'm transwoman'
Saisha Shinde further wrote, 'I spent a few years of the beginning considering myself gay because I was attracted to men. But 6 years ago, I came to know about myself that I am a transwoman, not a gay. Then I accepted this truth. Now I want to tell you that I am not gay, I am a transwoman. '

Sunny Leone said- you are proud sister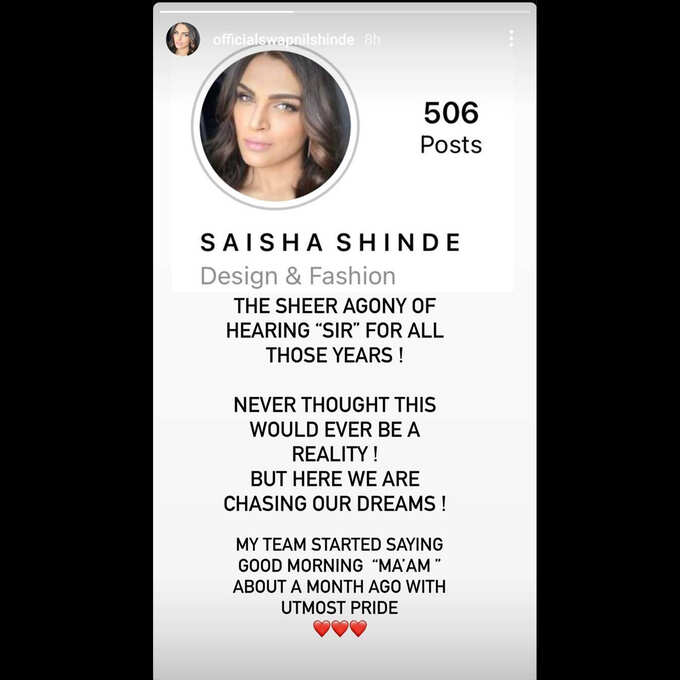 Saisha has also shared a post on her Instagram story as well. In this, he told that his team started calling him 'Maam' for about a month now, that too with all due respect. With the announcement of Swapnil becoming Sasha, many celebrities from the industry have supported him for this adventure. Commenting on the post of Saina, Sunny Leone wrote, 'I love you and I am proud of you. You have become what you always wanted. happy Birthday Sister!!'
Parineeti and Aditi also lost love
Parineeti Chopra and Aditi Rao Hydari have also commented on the post of Saisha Shinde. Parineeti writes, 'Very happy to read this. From here onward and onward, Saisha. ' While Aditi Rao Hydari writes, 'A Big Hug.' That is, a warm hug.