Kangana Ranaut
She is in the headlines once again for one of her tweets. He is being trolled a lot on social media. In fact, he retweeted a fake tweet related to Kisan Protest without knowing the truth. She has deleted it after being trolled. However, people have taken screenshots and are being trolled.
Elderly grandmother was told by Bilkis Bano
In the tweet that Kangana had retweeted, an elderly peasant grandmother who was part of the Kisan Protest described Shakin Bagh as a burkis bano. It was written that according to daily wages, this work is done by grandmother. Kangana retorted with sarcasm at this. Wrote, ha ha ha, she is the same grandmother whom Time magazine included among the most powerful people in India. They are available for Rs 100. Pakistan's journalists have embarrassed international PR for India. We want people who can raise their voice internally for us.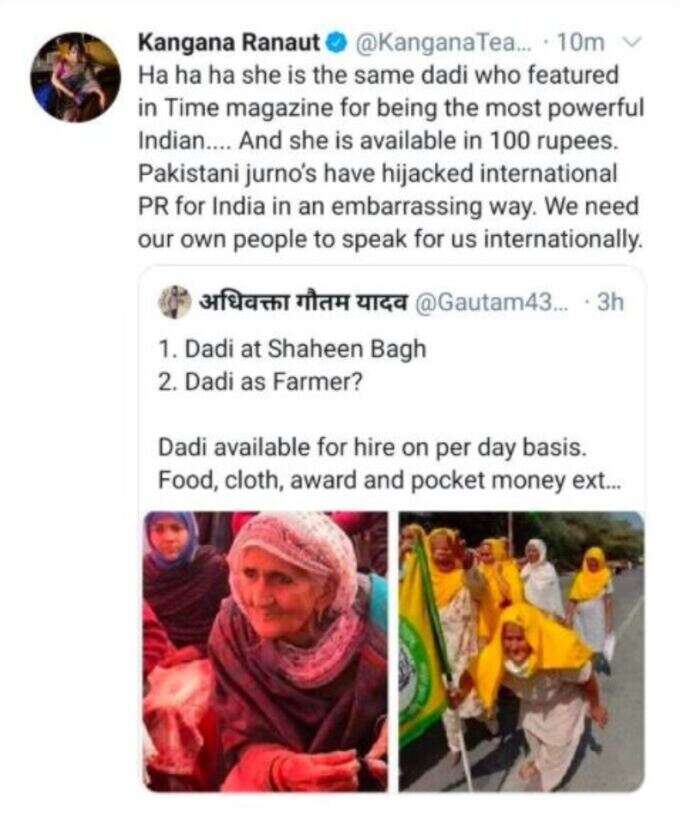 Kangana deleted the tweet as soon as she was trolled
As soon as Kangana's tweet came, she started being trolled on social media. After that they deleted it. Even after this, on a user's post, he wrote, "You are getting more excited … More excitement is not good for you like Jaichand." This is not fake news, my sources are still verifying. He also raised the question, what is your source?
Who is Billis Banu
Bilkis Bano (82), also known as Shaheen Bagh Dadi, became the face of the CAA-NRC Protest. Thousands of farmers are opposing the new agriculture bill of the center. In this protest, a picture of an elderly peasant grandmother was revealed. Kangana told both of them to be the same.