Amitabh Bachchan (
Amitabh Bachchan
He is very active on social media and often shares funny stories related to his personal life and films. Once Amitabh Bachchan did his film 'Pukar' (
Pukar
had shared an anecdote related to
Kareena Kapoor
(Kareena Kapoor) started thinking of him as a 'bad guy'. In this affair, Kareena was also injured then.
Amitabh Bachchan's film 'Pukar' was released on 18 November 1983 and recently the film completed 38 years of its release. On this occasion, an old social media post of Amitabh Bachchan is going viral, in which he narrated an anecdote related to Kareena from the film 'Pukar'.

Amitabh Bachchan shared a post on his Instagram account in May 2019. In the post, he shared a picture of younger Kareena Kapoor from the sets of 'Pukar'. In this, Amitabh is seen washing Kareena's feet and applying medicine. Along with the picture, Amitabh had also shared the whole story in his blog.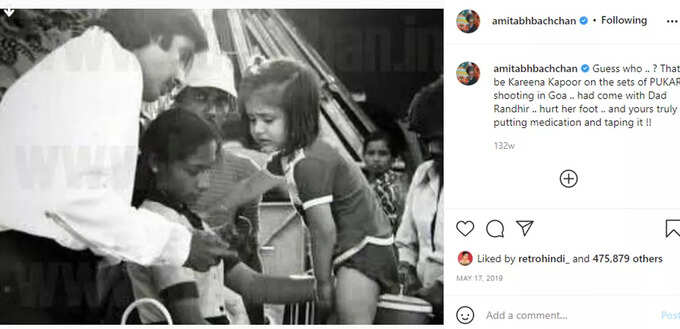 Kareena was scared, started crying
Amitabh had told that Kareena's father Randhir Kapoor was opposite him in the film 'Pukar'. There was an action sequence between her and Randhir Kapoor in the film. In this, Amitabh had to hit Randhir and kick and punch. Little Kareena was also present on the set during that scene. The shooting was going on in Goa. Amitabh Bachchan told that when Kareena saw that he was beating her father Randhir Kapoor, she ran to her father. Kareena started trying to save Papa from Amitabh Bachchan's kicks. In this affair, Kareena fell and sank in the mud. Kareena started thinking of Amitabh as a 'bad person'. She thought of him as 'Satan'.


'Daughters are the cutest', daughter Shweta and granddaughter Navya reached KBC 13, excited Big B shared pictures

Then Amitabh got him calm, washed his feet
Kareena was crying and scared. Then Amitabh somehow pacified Kareena. He washed Kareena's feet and applied medicine. Explained to her that she was just acting and not a real fight. According to Amitabh, after washing the feet, Kareena calmed down and then started understanding them.

Amitabh-Kareena seen together in these films
Let us tell you that after growing up, Kareena Kapoor worked in many films with Amitabh. These include 'Kabhi Khushi Kabhie Gham', 'Dev' and 'Satyagraha'.