first trader of the week Today the stock market started strong. The BSE Sensex jumped 240.68 points to open at 60,862.45 points. NSE Nifty is also seeing a boom. The NSE Nifty opened at 18,104.20 points, up 76.55 points. Banking stocks are seeing good growth in early trade on Monday. If you look at the 30 stocks included in the Sensex, there is a rise in 25 and a decline in 5. Shares of ICICI Bank, IndusInd Bank, Kotak Mahindra Bank, HDFC Bank, SBI and Tata Steel included in the Sensex are doing well. Shares of Tata Motors are trading at Rs 410, up 2 per cent. If we look at the declining stocks, then there is a decline in NTPC, ITC, Asian Paints etc.
nifty 50 opening move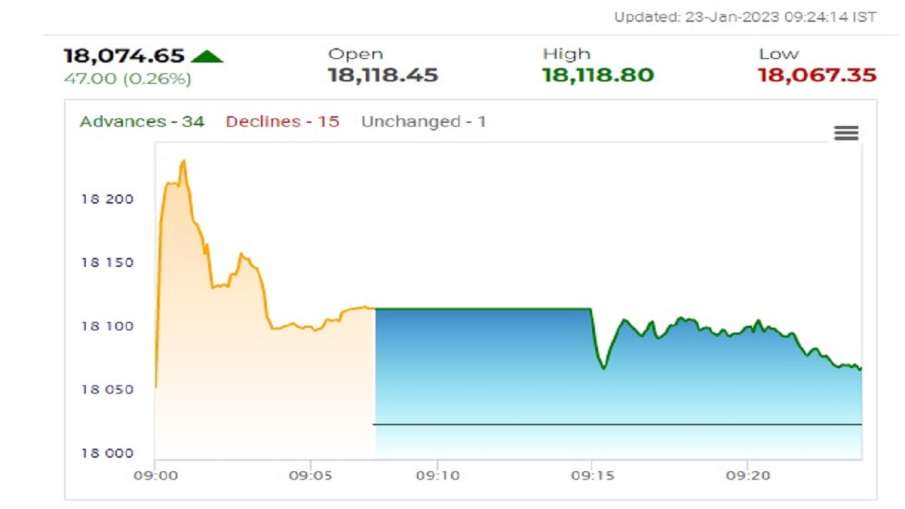 Good growth in the shares of these companies
Shares of Reliance Industries, HDFC, SBI and Infosys traded in profit leading to gains in both the indices. In the Sensex, Power Grid, Tata Motors, HDFC Bank, HDFC, Reliance Industries, Infosys, ICICI Bank, Kotak Bank, Mahindra & Mahindra, SBI, HUL and Nestle were among the major gainers. On the other hand, UltraTech Cement declined the most by 1.6 per cent. Apart from this, NTPC, Tata Steel and Asian Paints were also trading with losses. International oil benchmark Brent crude was at $87.23 per barrel.
Quarterly results of these companies this week
Talking about the quarterly results, the earnings figures of Axis Bank, Maruti Suzuki India, Bajaj Auto, DLF, Tata Motors, Bajaj Finance and Vedanta will come during the week. Siddharth Khemka, Head – Retail Research, Motilal Oswal Financial Services Ltd. said, "The market is expected to remain a bullish market on account of stock specific activity around Q3 FY 2022-23 results and the upcoming Budget." Apart from this, investors will also keep an eye on the activities of foreign institutional investors (FIIs), the movement of rupee and Brent crude oil.
Latest Business News
Get the more latest news about Business