Government and private banks offer different interest rates for FDs. For that a Maturity Date is also fixed from their side, that means you cannot withdraw that money till that time. Suppose you get caught in such a difficulty that if you have to break the FD, then what methods will you have to adopt. Know in this news.
Almost the same methods have been made by all the banks to break the FD before the maturity date. Due to increasing digitization, banks have now made almost all their processes online. It is not that the offline process has been stopped. You can break your maturity with the help of both offline and online. Here, taking the example of a bank, let's understand its entire process. By following this you can break your FD.
How to break FD made in HDFC Bank
HDFC Bank offers FD facility at attractive interest rates, which range from 7 days to 10 years. You have the option of closing your HDFC account post maturity or prematurely closing it before it reaches full maturity.
Two ways to close FD
Login to the official website of HDFC.
Visit the branch of HDFC where you had made the FD.
This is the complete process of online
Go to the official HDFC Net Banking Portal.
Login to your account using your net banking credentials.
Click on the option of Fixed Deposit.
Select the option 'Liquidate Fixed Deposit'.
Select the FD account you wish to close from the drop-down list.
Click on 'Continue'.
Confirm the entered information and submit.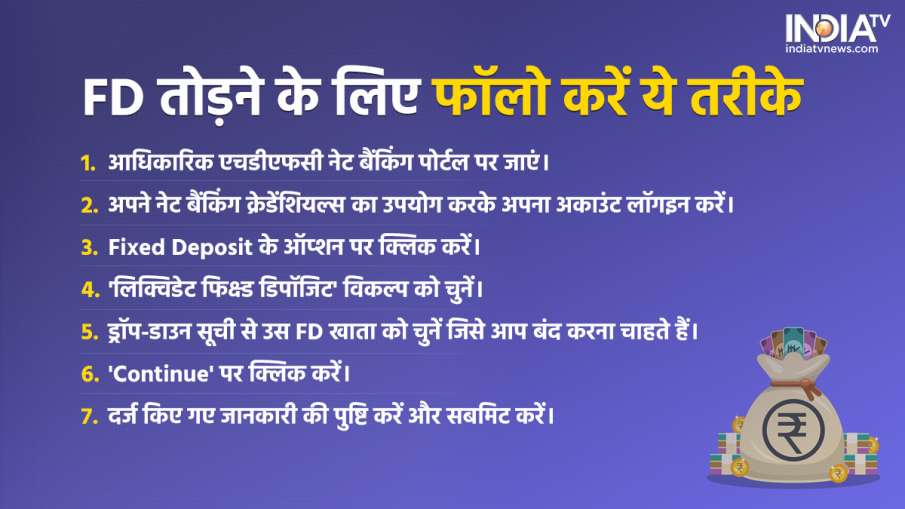 Once you go through these processes, the amount will be credited to your account.
Close your FD like this by visiting your respective branch
If you have opened your HDFC FD account directly with the bank, you will need to visit the bank office for premature closure of your account.
Visit the HDFC Bank branch and collect the application form for premature withdrawal.
Fill the form with required details like your bank account details, FD number, name, etc.
Submit the form.
Once this form of yours will be accepted by the bank. The FD amount will be deposited in your savings account.
Latest Business News
Get the more latest news about Business